What Every Beginner Needs To Know…


Have you ever wondered why musicians are always popular in any day and age? Or ever dreamt of playing an instrument to impress your family or friends? The first step is discovering that every talented musician throughout history started from scratch. They mastered the basics step by step and whether you're choosing the flute, trombone, guitar or simply opting to play at a Piano for beginners level, you just need to start somewhere.
Piano for beginners online is a valuable educational tool providing insight into all things piano and music related. It was designed to provide information regarding the history of piano, learn piano software programs and provide you with up to date information about current piano events and rising stars throughout the world. It aims to highlight the benefits of playing piano, the science behind how music affects the brain and to show you some of our favorite YouTube Piano performances to provide you with great entertainment value. Your dream of playing an instrument is a lot easier to reach than you think, all you need to do is take the first step…
Without Music, Where Would We Be?
Let's take a quick step back and imagine where this dream originated and truly discover the purpose and importance of music in our lives.
How is it, no matter what mood you are in, when all else fails, music has the ability to change the atmosphere in an instant… How is it, no matter what event you're at whether it's Christmas with the family, best friends wedding or thanksgiving, music always creates an atmosphere of harmony, love and joy and creates life long memories…  How is it, that the remarkable talent of one 11 year old piano player Greyson Michael Chance can capture the minds and hearts of millions of people throughout the world? His 3minute and 38 second piano performance in his school hall changed his life forever and inspired millions of children and adults worldwide. All because he followed his dream and didn't let excuses get in his way. Yes he is talented. Yes he has the passion. But just like him and every other musician that has ever existed they all started off as a beginner…
Just watch and see where passion can take you, I guarantee you will be inspired… It gives me shivers down my spine every time.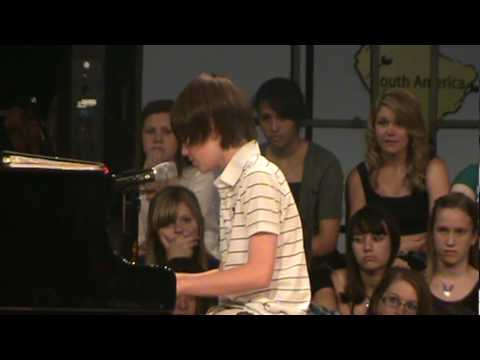 Piano For Beginners Online ~ Your Solution
As demonstrated by Greyson and I can imagine millions of people throughout the world can relate too, playing an instrument brings immense joy, satisfaction and excitement, to you, your friends and your family. The opportunities are endless when considering an instrument to learn. Whether it's learning piano, keyboard or violin everyone has their own niche. So what stops people from pursuing their goals and dreams of playing an instrument? Is it the cost of hiring a teacher? The inconvenience of leaving the house to attend classes? Is it the perceived idea that learning to play an instrument is boring? Or you don't have enough time? In the past, these excuses may have been legitimate, but with the vast improvements in technology and the opportunities that exist today, these excuses become void, and dare I say it, unjustifiable. When you recognise these excuses and finally take action to learn the instrument you have always wanted to learn, the results will far outweigh the excuses you left behind.
There are solutions to each and every one of these 'excuses' for all instrumentalists out there, but for now I've only discovered the one for future pianists. When I came across a particular piano for beginners online software, I honestly felt excited that someone had created a product that negates all of these excuses. So what are their solutions?
The cost of the entire Piano for beginners online software is on average less than ONE piano lesson with an individual tutor.
You don't even have to leave your house to learn; you either download it instantly online or have it delivered.
Learning piano for beginners through the Rocket Piano program is fun, easy and gives you bonus access to learning songs from your favourite number 1 artists.
No matter how much time you have, you learn everything at your own pace, whenever you can find the time and fit it around YOUR schedule.
The techniques are taught through step by step instructions and designed around

Piano for beginners

through to intermediates via sound files, videos, pictures, diagrams and it teaches you to read music and play piano by ear.
How Will You Achieve Your Dreams?
This program fast tracks your progress by starting the journey as a beginner and developing you to an advanced skill level. Human beings were born to learn, and we learn best when we're having fun. However, somewhere along the way, the Fun Police and their excuses made things hard and boring and made our dreams "unreachable". So how are these excuses working out for you? Are they getting you the results you really want?
Taking action with Rocket Piano and learning how to express yourself with passion and feeling through music is one of life's true treasures and I think it's about time your goals of learning piano or keyboard became reality. This isn't a sales gimmick to persuade you into buying something, if it was we wouldn't recommend it and then offer you a 60 day money back guarantee if you don't like it or you simply decide it's not for you. You are really in a win, win scenario.
For only a one time payment of $39.95 (downloadable versions) or $199.95 for hardware delivered you can finally achieve your dreams. If you have always wanted to discover your musical flair, then this piano for beginners online software is for you. It was created to teach anyone of any age to play their favorite all-time greats, or latest hits just like a professional which will touch the hearts of your family and friends by learning to communicate the language of music. Just imagine a world without piano, without children like Greyson Chase, all time great performers like Billy Joel and Elton John… What if they never placed a finger on the piano? What will it cost you not to give this a try?
Below I have included all of the best songs and books that I have recommended on my website. Hope you enjoy browsing the site, as much as I like producing it for you.
The Background for this website has been designed and is copyright of twitrounds.com